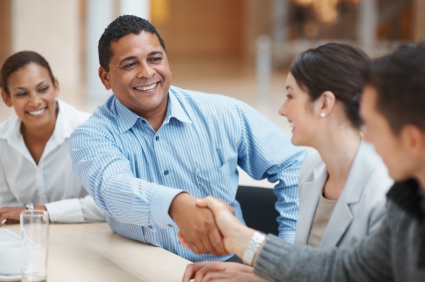 When you immigrate to a new country like Canada, communication strategies that work in your home country and ones that work in the Canadian workplace will differ drastically. And even if adjusting to the Canadian workplace culture is not worrying you the least bit, you should always take some time to understand the new environment that you're about to dip into.
From an updated Canadian Style resume, to networking, to socializing, you will need to step up your game! If you already have friends or family working in Canada, ask about their experiences. Personal experiences and nuggets of advice are always more effective than lifeless words on a page.
Finding a Job in Canada
You probably know the drill. Finding a job by sending out your resume and gearing up for interviews is common practice. Some lucky folks get amazing jobs using these methods, but if you want more control over your job hunt, you need to know the key to finding the best jobs in Canada as a new immigrant.
Resume makeover
Make sure your resume is built for this century. You don't want to sound like you just stepped out of the 90's. There are some key points in creating a Canadian Style resume that you should master. Settlement agencies can help a great deal in this regard. Reach out and don't be afraid to ask questions. Become Curious George or Jennifer if need be because a sterling resume speaks volumes of your professionalism and can-do attitude.
Network away!
Some employers don't bank on your Canadian experience, but for some it is an absolute necessity. So what is a newcomer to do if the weakest link in the resume is a startling lack of Canadian experience?
Free Online Webinars can really help you with the following:
Volunteering, internship, mentoring or job shadowing

Networking programs arranged in your state

Meeting with head-hunters and settling agencies

Enrolling in bridging programs to help fill the gaps between past/future qualifications and experience
Chances are you'll meet the right people who know the right people. It's all about knowing how to network in Canada. This will give you more control over what career choices should be made.
Yay, you have a job! What next?
How to work well with Canadians as a newcomer
Getting used to a new and unexplored workplace in Canada can get a bit tricky. Especially if you've come from a completely different environment. But here's the secret, that's well, not really a secret. The whole world knows Canada is a colorful multicultural melting pot. People from diverse and interesting backgrounds interact every day and the end product is poutine-gooey delicious!
True blooded Canadian employers are respectful people. They will respect you for your beliefs, cultural differences and separate identities. This openness to diversity makes it easy to work well with Canadians. They take pride in an immigrant's diversity. In fact, certain employers prefer to hire new minds. Some Canadian employers believe in setting you free to explore and learn on your own. This degree of freedom can be invigorating not to mention extremely productive in terms of professional growth.
Of course there are always exceptions where immigrants have faced more problems fitting in than usual. In such cases, please speak up and communicate. Many work related problems disappear the minute we openly address them.
Adjusting to Canadian Workplace Culture
The differences could be unending, not to mention unnerving. It could be something as simple as addressing your boss with his or her first name as opposed to sir or madam, or knowing how everyone dresses for work.
Here are some top tips:
Learn how email communication is done; the vocabulary, salutations, style etc.

Be proactive and don't wait for someone to hold your hand throughout the process

Understand your job requirements and what your boss expects from you

Remember politeness is an important virtue in the Canadian book of wisdom

Take timeliness seriously

Get in the habit of 'observing'. You'll be surprised at the the details that sink in every time your observation mode is on.
Every organization differs from another, and in an immigrant's case, there's a lot to catch up on. Don't worry. You can do it!
Whether you aim to land a job, or unleash your entrepreneurial talents, it is important to understand the basic work ethic of Canadians. Be proactive in your approach to learn. Exhibit excitement, respect and positivity wherever you go. These millennial traits are the key to scoring and keeping great jobs in Canada as a newcomer.