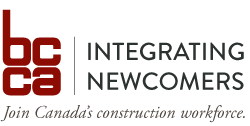 The BCCA-IN home office is located in Victoria, BC with additional satellite offices in the interior and lower mainland of the province. We can support individuals before they arrive in Canada by helping to assess skills, find information about working and living in BC, and connect with employment services and supports.
The construction industry is a significant driver of the BC economy. Opportunities exist for experienced trades people and new entrants. There are a broad spectrum of construction occupations which include labourers, skilled trades, technicians, technologists, design professionals, and many support occupations.
Currently in BC, the construction industry is experiencing growth. This is expected to continue over the next decade. Many job openings are available across the province and BCCA-IN is here to assist newcomers to BC access these opportunities.