As many internationally trained nurses find when they get to Canada, it can be challenging having your international nursing certificate or diploma recognized once you arrive. The process can seem daunting and confusing, but it doesn't need to be. The Canadian government has funded the PASS (Pre-Arrival Supports Services) program for nurses which is a project of CARE Centre for Internationally Educated Nurses (IENs). This is Ontario's first government-funded bridge-training program and has already helped a great many internationally trained nurses get to where they want to be professionally.
The PASS program is aimed at helping internationally trained nurses at the pre-arrival stage of their journey to Canada. They are able to make it possible for you to speed up the time you have to wait between landing in Canada and getting professional registration and employment. The best part is that enrollment in the PASS program is free to everyone who is eligible.
To be eligible to join pass you must:
Submit proof of nursing education in the form of a nursing certificate or diploma from your country of origin.

Have immigration approval from the government of Canada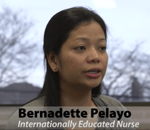 Bernadette Pelayo: "The PASS program helped me a lot. Especially their webinars, it's very useful in the sense that it's informative, it's very easy to understand and I can learn the things I need to know to be licensed in [Canada]"
By enrolling in the PASS for nurses program, participants are able to get access to unlimited individualized case management, a series of orientation and employment related webinars, and mentorship programs that are facilitated by the Canadian Nurses association.
PASS is conducted online on a pre-arrival basis through the use of online forums, webinars, personalized skype sessions and even over the phone. PASS webinars are employment and orientation related, this gives registered nurses overseas just like you an idea of what the Canadian healthcare system looks like and the role of a nurse in Canada. You will also learn a great deal about the following:
Nursing Workforce Overview

Nursing Labour Market

Demographics in the market

Where to access more information about nursing in Canada

Transferable skills
If the path to getting registered as a nurse in Canada looks like it may be longer for some, the PASS for nurses team can help in getting you access to alternative careers that are non-licensed but still in the healthcare field. This is good as you will be able to pursue your career and build a professional network within the healthcare industry.
In addition to all of this, by enrolling in the PASS for nurses program you will also have access to two online, self administered English communication courses that are nursing specific. This can really improve your chances of starting the nursing career in Canada that you have always dreamed of.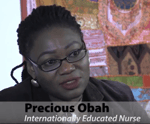 Precious Obah "Any nurse who want to immigrate to Canada I would suggest that if you have access to PASS, I would really recommend PASS"
Register for the PASS for Nurses Webinar now and take your career in Canada to the next level.