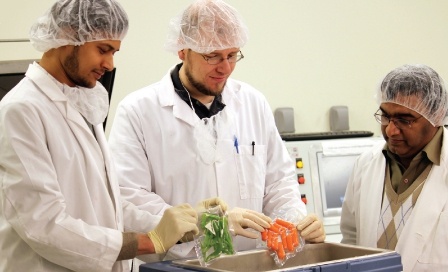 Government funded training programs can give you the boost you need to help get a career in Canada that you can be proud of.
The Food Processing Human Resources Council's Pre-Arrival Food Safety Management Training Program provides employment-related, self-paced training. Upon completion of the program each participant will earn a certificate that is recognized by Canadian employers. Preparing pre-arrival newcomers for careers in the Canadian food and beverage manufacturing industry. The program is targeted towards eligible pre-arrival clients in English.Register for the live webinar to learn more about this exciting free program valued at $5,000!
The courses will be a blend of current information, assessments, tools and resources, delivered in an engaging adult learner friendly format, with activities that will develop their food safety skills.
Pre-Arrival FAQ
Q: What countries are eligible to receive/ able to participate in the training program?
A: Most regions of the world are eligible, with the exception of individuals residing in Canada.
Q: What is the cost to take the course?
A: This program, valued at an estimated cost of $5000, is FREE for all participants. The program is generously funded by Citizen and Immigration Canada (CIC).
Q: Do I need access to the Internet?
A: Yes, you need daily access to a reliable Internet connection to take the online program. A high-speed connection is preferable, but not mandatory.
Q: How long does it take to take a course, all the courses?
A: You have 30 days to take all 21 courses. Courses vary from 30 minutes to 3 hours.
Q: What happens if I need to quit the course?
A: You can take the course at a later date but before coming to Canada.
Q: How many certificates do I receive?
A: Completion of Levels I and II will result in 5 Food Safety Certificates. For professionals taking Level 3 course they will receive an additional 7 Food Safety Certificates.
Q: I just moved to Canada within the past year, can I still take the program?
A: No. Unfortunately, due to funding restrictions, we are not able to accept new immigrants who have recently moved and are currently residing in Canada. Citizenship and Immigration Canada (CIC) works with the Canadian community to fund other initiatives that serve newly settled individuals; referred to as the Settlement stream.