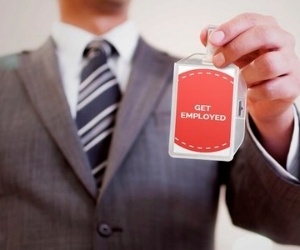 Getting a Canadian work experience could be frustrating due to the fact that it's very challenging to obtain it while companies deny your application because you don't have any. Today we will discuss how to break this vicious circle and enter the Canadian workforce.
I was in the same boat as many newcomers to Canada. While still in college, I was applying for jobs in my field, but did not even get one call back. The answer was clear to me - I didn't have any Canadian work experience. So after I graduated I started to think about the alternative ways to get into Canadian workforce. For the next couple of months I was pouring coffee and making burritos, which was very far off from what I intended to do. Meanwhile I was sending out resumes for management positions I was initially aiming for. And it certainly made a difference! I started to get phone calls with invitations for the interviews. My next step was to gain relevant experience in my industry and only after i had achieved that, would I aim for the dream job in a dream company, where I eventually ended up.
So what does this "Canadian experience" mean? Most of the time it is the interpersonal and communication skills, so-called "soft skills" that employers are looking for. They want someone assertive, friendly and professional who will fit right in with their team.
In order to be perceived as this desired candidate, there are a few strategies that will help you to get that "Canadian experience" to put on your resume.
Survival job
It can be pouring coffee at the nearest Tim Hortons or making burgers at McDonalds. Even though it might be very far from what you want to do for the rest of your life or you might think that you are too educated/overqualified/deserve better, this is a great strategy to "get your foot in the door". Besides, it is an awesome chance to get a nice reference letter from your manager regarding those "soft skills" that employers are looking for. On top of that, it is a wonderful opportunity to learn about Canadian workplace and rules of employment in Canada as it might differ quite a bit from your home country.
Reference letters
A reference letter can make a difference and change your employment status to "hired". Even though the reference letters from your employers in your home country are always good, it might be a good idea to get reference letters from people in Canada who you met since you came here. It can be your neighbour who is a local business owner or a counsellor from the immigrant settlement agency or anyone else who can describe your personality and communication skills.
Volunteering
There are many non-profit organizations in Canada. It could be any area of volunteering, but what you will be after is networking and showing your skills. In addition to that, there are organizations where you could volunteer your professional services, which will add a relevant experience for the position you are applying for. Besides, it always feels great to help your community, doesn't it?
Membership in an industry professional association
If you become a member of a professional association within your intended field, you will have an opportunity to volunteer for them. This will mean networking with people in your industry and making professional connections on top of getting actual "Canadian experience".
Freelancing
If you have skills that you could sell, such as writing, editing, marketing, or programming you could become a self-employed independent consultant. Nowadays there are free online web creator tools which will help you to set up a website where you can show off your work. You can search the local industry-specific websites to find freelance jobs. On top of that you can send pitch emails to the companies you would like to work for.
Do not underestimate the importance of getting a Canadian work experience as soon as possible after you arrive. You have lots ahead of you, learning about job search in Canada, interviewing and starting your journey as a Canadian employee. I sincerely hope that with the help of the strategies discussed above, you will get your Canadian work experience and very soon will end up at your dream job.