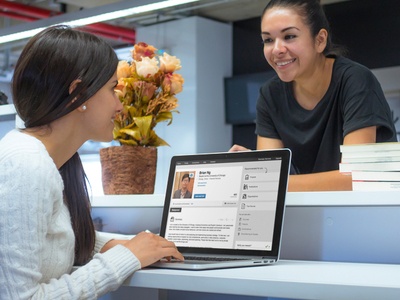 Having arrived in Canada as an immigrant recently, I have found that getting a job here can be a challenging experience. I had to spend some time adapting to the Canadian workplace culture and it was not easy.
One thing that I found very different from my home country was the need to use LinkedIn as a networking tool. Networking in a new country can be hard enough, using LinkedIn is a great way to get the ball rolling and access jobs that otherwise you would not be considered for, let alone even know about. Their are many resources to help you with your job search in Canada such as live webinars with Q&A sessions that can get you onto the right path.
So, for those who are not familiar with LinkedIn, it is a a social media platform that allows you to make a profile that showcases your professional accomplishments. Making connections with people of influence is as easy as the click of a button. However, you should be careful about how you set up your profile if you are hoping to find work through LinkedIn.
Here are some of the things I found to be important when I made my LinkedIn profile as a newcomer to Canada.

You need a professional photo
This is a very important factor in how you build out your LinkedIn profile. This is not facebook or twitter. You should focus on making sure that you look presentable and dressed well for the business environment that you are hoping to enter.
Use the summary to sell yourself
Much like a resume, you need to be concise and grab the attention of the hiring manager in Canada immediately. You should take this opportunity to showcase your skills and abilities that will be most sought after in your chosen field. Remember, many employers see international experience as an asset, not a weakness, so don't be shy about the work you did in your home country. If you don't have any Canadian work experience, be sure to add some volunteer work that you have done in Canada, this can make all the difference.
Make sure you show off!
The mistake a lot of people will make on their LinkedIn page is that they will just copy and paste their resume. You should take advantage of all that the LinkedIn platform has to offer and link to examples of your work or past successes.
Proofread
You need to make sure that their are no typos in your profile. This can be an instant turnoff for many hiring managers and you will potentially lose out on a job offer through carelessness. Make sure you double and triple check your profile for any and all mistakes you may have made. This is especially important when you are making edits in the future.
Keep your LinkedIn profile updated, but be careful
Did you know that when you make a change to your profile, all of your connections are notified of the change via email? This can be great for things like a promotion or if you have earned a new certification. However, you may want to make changes that are just for housekeeping purposes. If you plan to do this make sure you disable this feature, this can be done in your profile settings.
The most important thing to remember is that you have to keep positive throughout your job search as a new Canadian. You should consider LinkedIn as an add on to your already robust job search strategy that you have employed before and after you arrived in Canada.