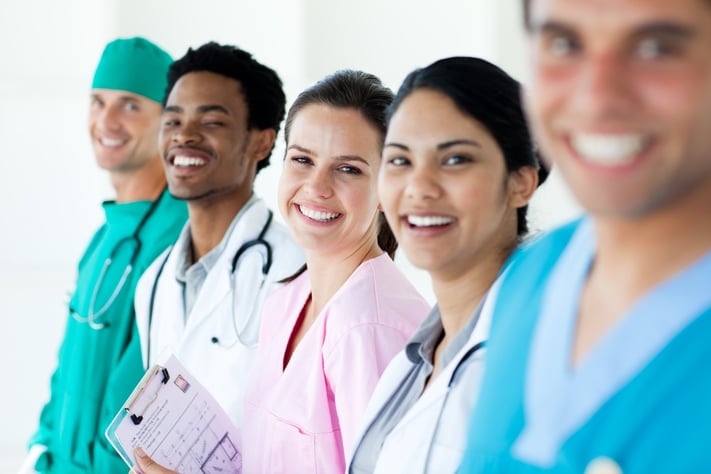 Canadian registered nurses and retired nurses are supporting internationally educated nurses who are preparing to move to Canada. In a 40-year nursing career that focused on geriatrics, Sandra Stec met many immigrants who trained as nurses in their native countries and ended up working as health-care aides in Canadian long-term care homes.
The difficulty they faced in obtaining RN licensure is part of what motivated Stec, now retired, to volunteer as a mentor in a new program that matches Canadian RNs and retired nurses with internationally educated nurses (IENs) who are preparing to move to Canada.
"I think it's a good opportunity to reach your hand out to someone who has made the decision to relocate. Moving is always a challenge — but moving to a different country, a different culture? Any insights you can give them may help them," Stec says.
The mentorship is part of a program called PASS (Pre-Arrival Supports and Services), which is funded by Immigration, Refugees and Citizenship Canada. PASS is run by the CARE Centre for Internationally Educated Nurses, with CNA acting as a partner to recruit nurse mentors. The program launched in January 2016, but the mentorship component is more recent — starting in August.
To be eligible to join pass you must:
Submit proof of nursing education in the form of a nursing certificate or diploma from your country of origin.

Have immigration approval from the government of Canada
"It's a very important point to make that nurses who are coming from another country have made the conscious decision to move, and to live and work in Canada," says Sue VanDeVelde-Coke, executive director of CARE Centre. " The purpose of the PASS program is to inform them about the process of obtaining licensure, give them access to webinars about being a nurse in Canada and the Canadian health-care system and, most importantly, provide them with one-on-one interaction with Canadian nurses and our staff."
PASS is conducted online on a pre-arrival basis through the use of online forums, webinars, personalized skype sessions and even over the phone. PASS webinars are employment and orientation related, this gives registered nurses overseas just like you an idea of what the Canadian healthcare system looks like and the role of a nurse in Canada. You will also learn a great deal about the following:
Nursing Workforce Overview

Nursing Labour Market

Demographics in the market

Where to access more information about nursing in Canada

Transferable skills
PASS program coordinator Meghan Wankel says the process for an IEN to obtain a Canadian nursing licence can be long and often frustrating. First, the nurse must submit all of her or his educational credentials and paperwork to the National Nursing Assessment Service (NNAS). Then, the provincial/territorial regulator reviews the NNAS assessment and determines whether the applicant meets the necessary provincial/territorial competencies. Many international applicants are told they don't meet all of the competencies, VanDeVelde-Coke says. This could mean they will be required to do further assessments and testing before being permitted to write the entry-to-practice exam.
The response to the call for mentors has been enthusiastic, says Diane Stephenson, a CNA emeritus member who is helping screen the applicants and volunteering as a mentor herself. Stephenson conducted a survey of emeritus members in November 2015 to discover how CNA could better serve this group of retired nurses. Many said they were looking for volunteer opportunities with the association. The launch of the mentorship component of PASS provided just such an opportunity.
Once mentors and mentees have been accepted, they must participate in a series of webinars on mentorship procedures, diversity issues and problem-solving. They are then given each other's contact information, so they can get in touch via e-mail or Skype. Depending on the mentee's arrival date, the mentor is expected to communicate with the mentee three to five times pre-arrival and at least once post-arrival.
Wankel developed the webinars, with input from CNA, and facilitates them. She is responsible for matching mentors to mentees according to their clinical interests and to where the mentee plans to practise. As of Sept. 1, she had matched 12 IENs with mentors.
"A few of the mentors are IENs themselves and have gone through the process, so they feel they can help others in that way," says Wankel. "They're giving back."
That's the case for Jeba Rathnaraj, an RN at the Margaret Cochenour Memorial Hospital in Red Lake, Ont., who emigrated from India in 2014. She worked for a decade in Saudi Arabia and believes her knowledge of Arabic will be helpful in building a connection with her mentee, Sameera Khalid Al-Hamad, a nurse in the United Arab Emirates.
"In the Middle East, in general, the standards are all good, as most of the well-known hospitals have international accreditation. So if a nurse is coming from that clinical background, she would be able to adjust quickly in Canada," Rathnaraj says. "Doing all her preparation while she is in her home country is a big time saver because there is no pressure then. She can relax in her home environment, study and prepare for the exam."
Al-Hamad, a maternity nurse with a bachelor's degree and 20 years of experience, applied in 2010 to immigrate to Canada as a skilled worker. She says she was attracted by the safety, job opportunities and "friendly people and awesome nature and land." She obtained her visa in 2015, has submitted her paperwork to NNAS and remains in Dubai while she waits for the results of the NNAS assessment.
"Attending PASS information and orientation webinars provided me with an overview of the nursing registration process and the Canadian health-care system," she wrote in an e-mail. "I feel connected and, for sure, I believe such support and services will help to shorten the time to professional registration and employment."
Register for the PASS for Nurses Webinar now and take your career in Canada to the next level.
See full article at CanadianNurse.com